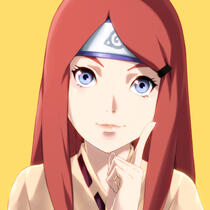 StayAlivePlz
Digital Artist
---
Socials
Galleries
Merch Stores & Gumroad
---
Summary:
Hello! I'm Stay, a freelance digital artist who has been producing digital art mainly in anime style for about 7 years. You can find me on different platforms such as Patreon, Instagram, Twitter, YouTube, Artstation, Deviantart, Pixiv.
I offer digital art commissions, which you can get more detailed information about by referring to this page. Also I will be grateful if you would like to support me by checking my Patreon page. This will definitely be a paramount boost for my further endeavours.
🌸
Commission Guide: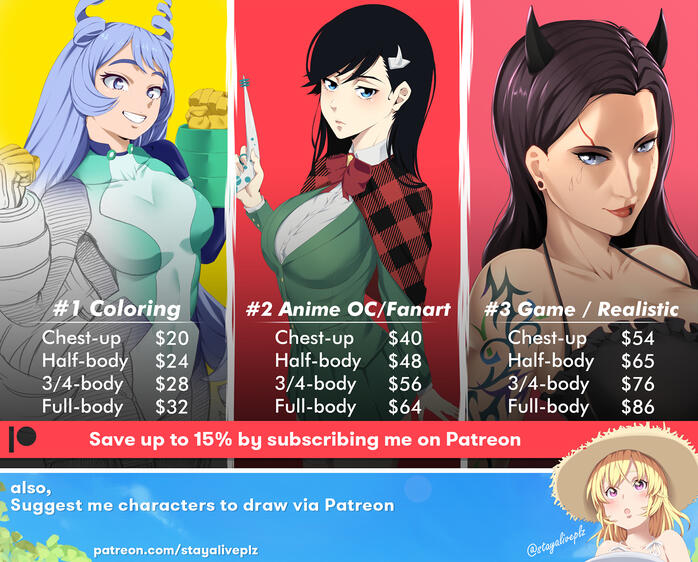 *body expression sample ( link )
What I do / categories:
1) Coloring requests, belong to the category of coloring black and white pictures; this includes mostly manga panels, sketches, etc.
2) Anime OC (original character) and Fanart requests, it is the category of drawing characters in anime style with the information you provide.
3) Game & Realistic requests, unlike the above category, the character is drawn in a more realistic style.
Contact & Request message:
◇ Via e-mail: [email protected]
◇ Reach me on profiles/portfolios mentioned above (optional);
◇ Discord (optional);

◇ You should explain/describe everything you want in detail; characters, background, effects, colours, etc.
◇ You can also mention references and additional information; picture references are more preferable.
Payment & Pricing:
◇ Payments are accepted through PayPal;
⇢ paypal fee will be added in the total cost. ▾why are fees not included in default prices? - because showcase prices are only base prices for single character, as I mentioned below, additional details will be cost extra.
◇ Commission payment will be required only after the rough sketch has been confirmed by the customer.
⇢ no critical changes will be accepted on no-cost after the sketch is confirmed.
◇ Commission prices are indicative and may vary for specific artworks.
◇ Extra charges will be added in the price for additional characters, specific details, and background.
You should consider:
▷ Listed prices are only for the artworks of personal use!
▷ Commercial rates can be discussed individually.
▷ Normally the duration of the request(s) may vary from 3 days to 2-4 weeks from the start sketching. And I wouldn't accept requests with a deadline.
▷ If you didn't find what you're looking for in any section, send me a message about it.

✓ NSFW commission requests are acceptable.
✓ You can ask for the progress of your commission request(s) at any time.
✓ You can ask me for a private commission, so I won't share it anywhere.
✓ You can share your request(s) wherever you want, but with a watermarked version only and you have to give proper credit.

✗ No portraits, mecha, vehicle, animal, dragons, furry, yaoi, hentai, gore or strange stuff.
✗ No refund to be considered unless I will not be able to finish.
✗ Requests cannot be cancelled once the sketching is started.
✗ Artworks produced within this commission prices are strictly prohibited for commercial/profit use.
You will get:
◇ Unwatermarked version in high resolution.
◇ Watermarked version (in high resolution) for sharing.
◇ Character transparent version (no background).
◇ Canvas Size - 2861 x 4093 pixels / 300 dpi / .PNG
---
Best Regards, StayAlivePlz.